Discover more from Rewriting The Narrative
Content showcasing the diversity of Black men globally. This platform will provide current news for and about Black men, curated by Black men.
Living That #DadLife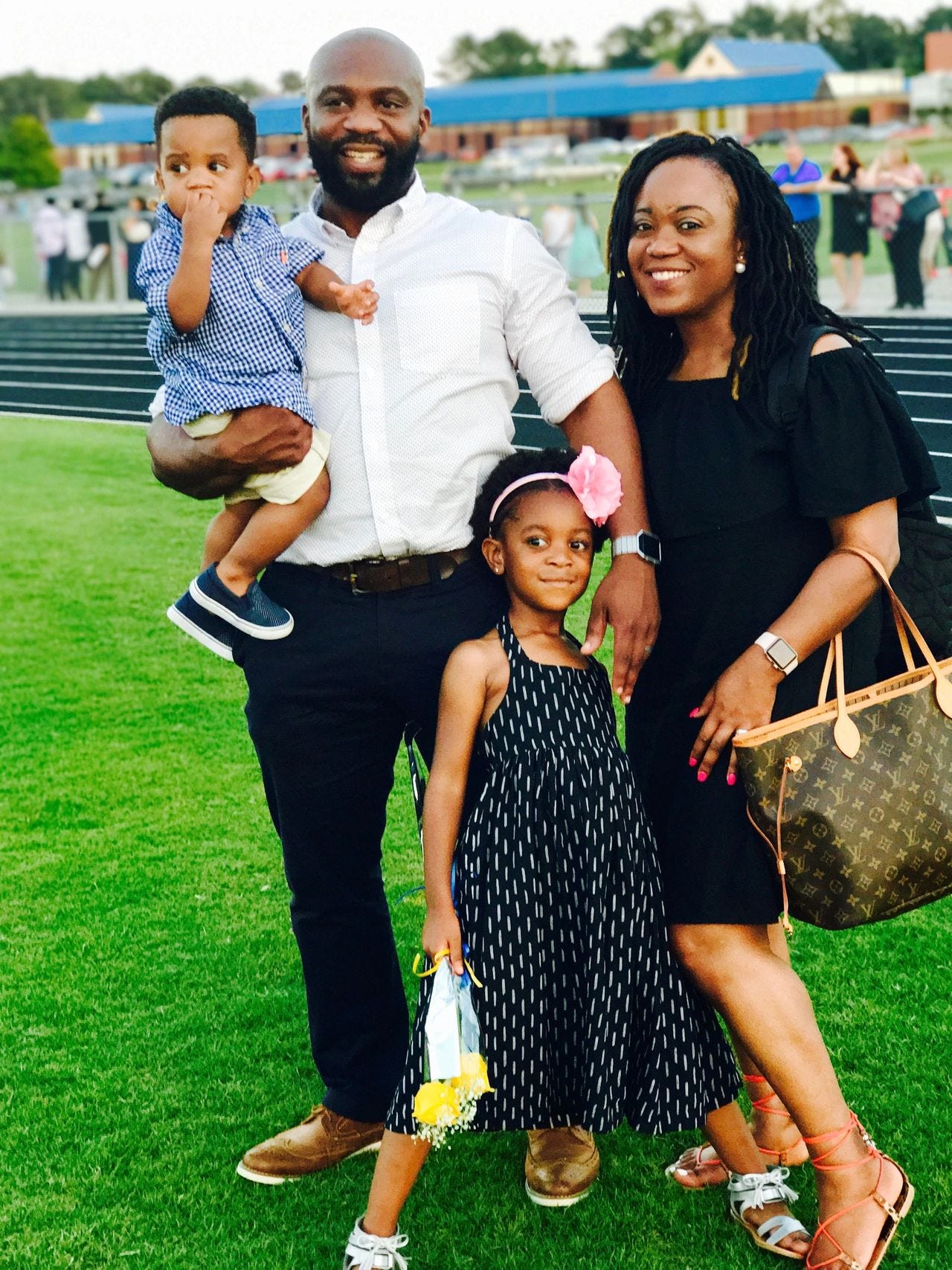 What's good y'all? Hopefully, everyone's A/C units are fully functional and you're checking on your granny's. This summer heat is beyond oppressive, and we, the people of Earth, keep taking Ls to the sun. With enough light to last me "fiftyleven" lifetimes, I did have one metaphorical shining moment. At lunch with some co-workers, the discussion of children came up. One of my youngest team members polled everyone as we were grubbing on Chinese. She asked a question that I really wasn't prepared to answer immediately. "When did you know you were ready for kids?" In between bites of General Tso's tofu, I was running through hurdles in my head to give the most appropriate answer.
Ever since I could remember, I always wanted to be a father. Part of it was naturally rebellion and spite, because I thought my parents were super strict. Many years later, I've come to the realization that my folks were more chill than a lot of other Nigerian parents. All that aside, they were Nigerian parents and Nigerian parents are intense. So some of my desire to become a parent in the future was a form of angst wanting to be a different type of caregiver. Not realizing that many things my dad and mom nagged me about as a young man, set up the foundation for a good future. 
Growing up as a Nigerian-American, you always had the sense that more children were a good thing. The more children you have the more prosperity you acquire. Alas, things don't always work like the ancestors said they should. I had this desire to have four kids and even relayed this proclamation to my wife, who was only my girlfriend at the time. She thought I was foolish, I thought I was making the utmost sense. Note to readers: never take anything seriously a man in his early twenties says. He's full of stupidity and too much testosterone. My thoughts certainly changed after our beautiful baby girl became a toddler. One was enough. Then our handsome son came along four and a half years later, so drastic measures devised to ensure my legacy was limited to two. I absolutely love being a father, but I knew two children were enough that I could give them both my full attention as they grew up. It also ensured that there was also time for my partner. Couples often lose that spark when children are thrown into the mix and we wanted to be sure that was still in place.
I've had a tremendous amount of ups compared to the few downs as a dad. I've watched my own father my entire life attempt to be a good of a father as he knew how to be. My dad has always been the ultimate provider and I've emulated that trait of his since the moment I knew we were having our first kid. There's nothing like hearing the words, "I'm pregnant", to get you into grind mode. It's been a beautiful and rewarding journey, I'm blessed to be their dad. I did go through the second child blues with our son, Garvey. I was nervous as hell about financially providing for another person in my household. I made excellent money at the time and still do, but just the thought of paying for daycare simultaneously and all other expenses had me shook. Also, I had the feeling that all my personal time would disappear. Both of these rational, yet blown out of proportion feelings had me going through more emotions than a Drizzy album. The reality was, all I needed to do was cut back on some frivolous spending and compromise with my wife on when we'd get time with each other and time to ourselves. As men, we sometimes can dwell on things that may seem so significant to us at the time, but at a wide angle view is nothing we can't overcome.
Besides maturing into a better father year over year, nothing gives me more joy than seeing my brother and two of my best friends jump on this #DadLife. One of the best dads in this world is Jan Bennett. He's one of the few people in my life that knows where all the bodies are hidden and can probably incriminate me for them if he so chooses. I've known Jan since our college Freshman orientation. We hit it off instantly and have been hanging tough ever since that moment. We've seen each other at our lowest points and have celebrated each other at our pinnacles. I've always thought Jan would be a great dad mainly through his relationship with his own father. Jan Sr. is hardworking, kind, and raised some amazing kids along the way. All those same traits I see in his son now. Jan's journey into fatherhood was a rough one in the beginning. He admitted that he was never ready to become a dad until he was first told that he was going to become one. That's when it really hit him that he wanted to be a father. With the loss of two children prior to his three now, that's when the super dad gene got activated. I've admired my friend's strength through his tragedies and his grace as he helped raise a bonus child. It's great to get videos from my guy with him and the kids fishing, riding bikes, or just enjoying what the city of Atlanta has to offer. He has shared godfather duties with Zora and full godfather duties with Garvey, but there isn't that many people I trust in this world to raise my kids similar to how Julia and I would in the event of our untimely demise. Jan has the perfect approach of fun-loving dad with the balance of disciplining father. The advice he gives to any new dad is, "you're never ready for kids, but as long as you're willing to work past your failures, you'll be the best father you can be for your kids."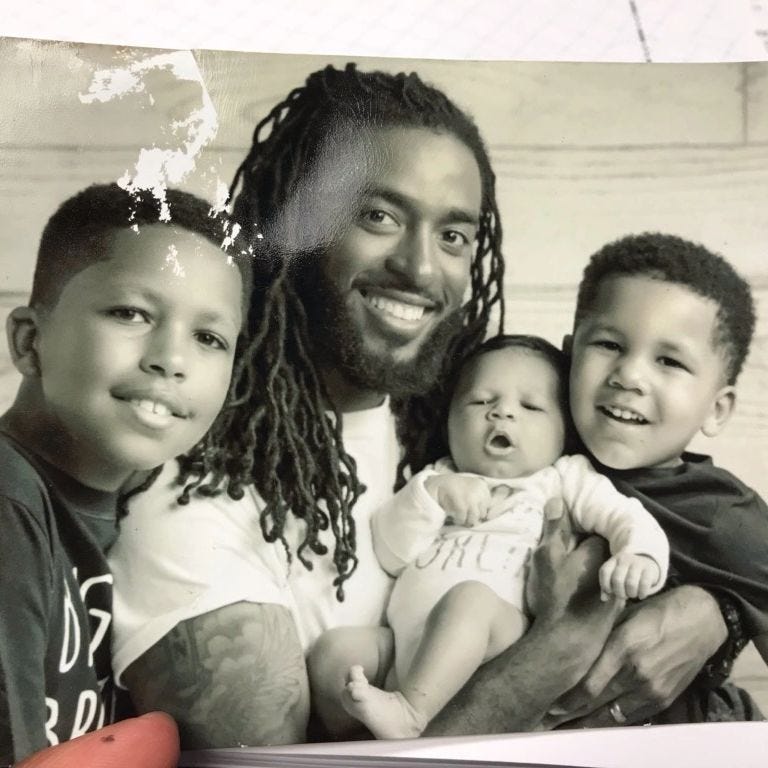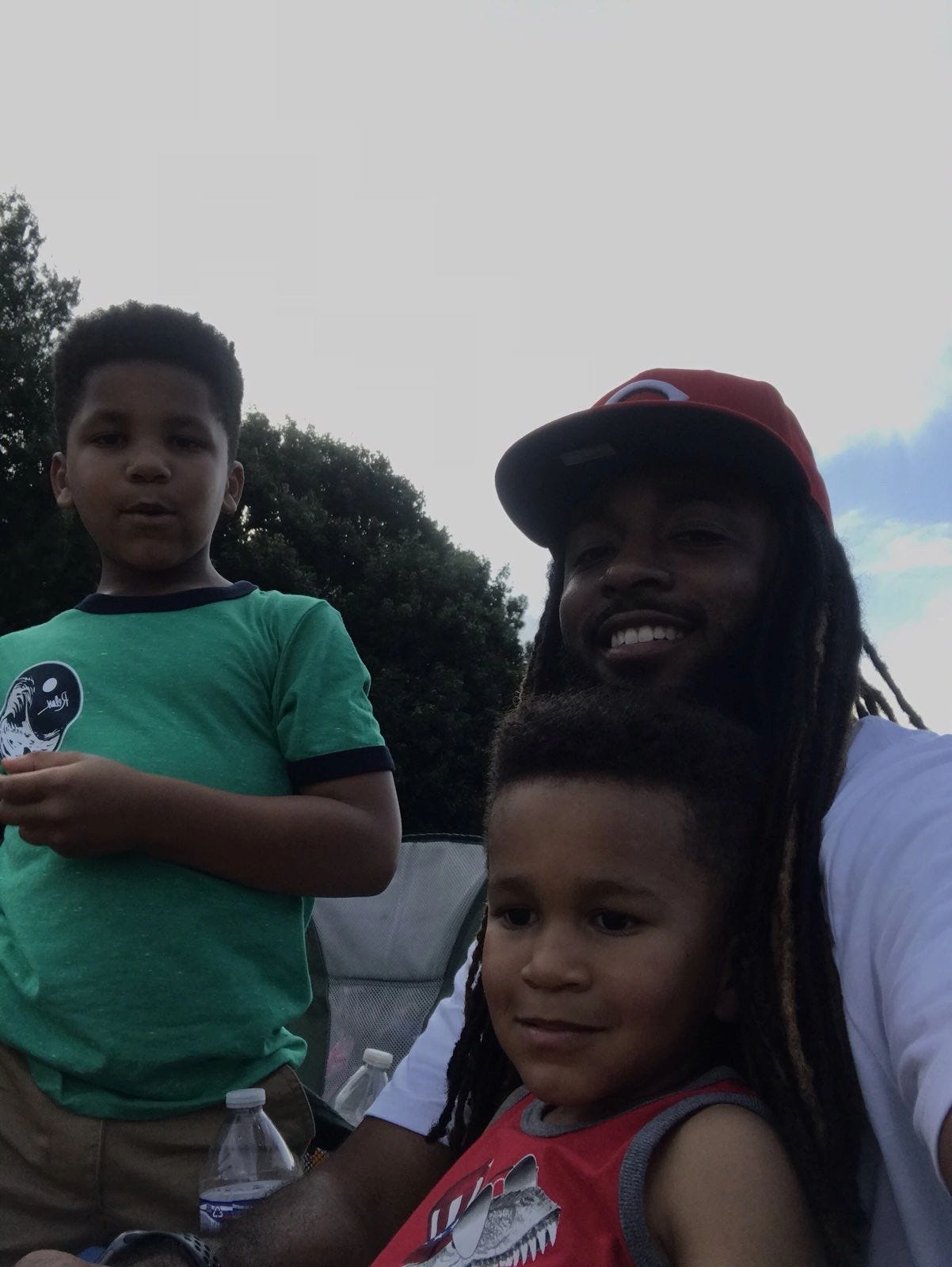 Remember earlier when I said, it's grind time official (what up Killer Mike) when your old lady says she's having your offspring? Well, that was very much the case with my David Owiredu. I've known my Ghanaian brother since we were in middle school. He's my middle brother's best friend and I'm not sure why my family never legally adopted him, because they spent so much time with each other. David didn't necessarily need his wife to tell him she was pregnant to get on his shit, but it was just more emphasis for him to manifest his destiny. For as long as I can remember, David has wanted to be a pharmacist. I watched as he worked hard through college, at the same time working in his desired field, then eventually working his way through pharmacy school. Since I've known the kid, he's always been ambitious and about his business. With the knowledge of his first child on the way, that propelled him even further to pass his pharmacy license. David always valued the two-parent dynamic, because he didn't have the opportunity to have that as a child. He saw it through his friends in life and came to the early decision that we wanted something similar for himself. One of the biggest accomplishments as a dad for David has been his ability to provide for his son and his wife. He's proud that he's reinventing the wheel for his last name. David recommends to any new father to "cherish the times, don't be absent. Get off of work stressed out, but when you walk in that house fuck that job. It's your child's time, it's your family's time. That time is value, nothing really matters than your child's well being. Everything is a blink of an eye."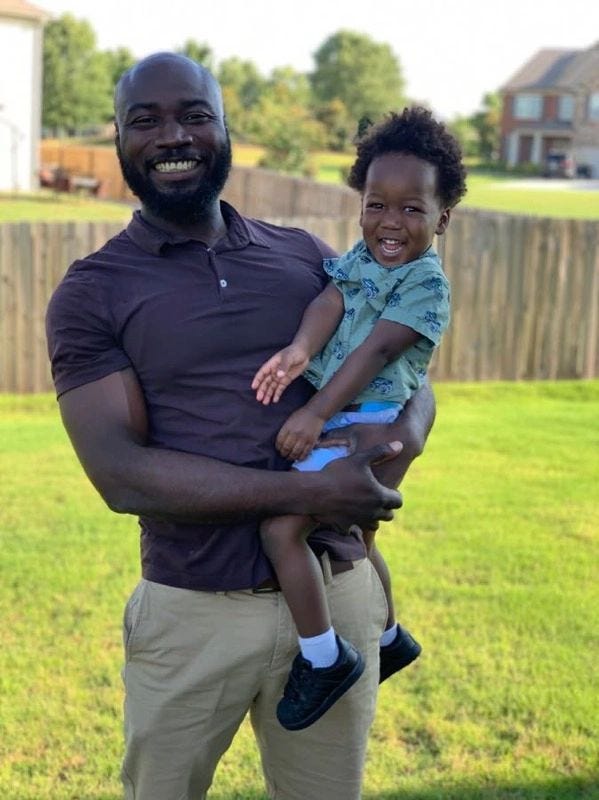 Shit hit you different when your little brother becomes a dad. Maybe it's the fact that you're an uncle now or just the fact as the oldest sibling, you practically raised him. All my West Africans, particularly Nigerians, can attest to that last sentence. All that aside, I've watched my younger brother, Achike Areh, mature to the man that he is today. His growth expanded the minute he learned he was going to be a dad and has not stopped. He took the time to become an expert in personal finance and take what he's learned and it applied it to his own life. Achike, A3 is what we call him, has shared his knowledge among our family, friends, and workshops. Even with everything he's accomplished academically and professionally, it makes me proud to see the joy on his face when he holds my niece. Achike knew that being a father meant that he would progress further in life, because being a childless bachelor, in his mind, was a plateau of sorts. My brother enjoys the fact that he can provide for his young family. He doesn't care for the accolades or even praised for those responsibilities, but his ability to facilitate this future generational wealth pushes him even further to be the best dad he can be. A Threezy made the realization that becoming a dad made him look more at the future and less at the moment. My brother has some great advice for new fathers. "Don't be afraid to make mistakes. Early on is best to get the failure out, I want you to fail as a father a few times. On the opposite of failure is success. Once you knock those failures out and you get through them, you're going to be a better father."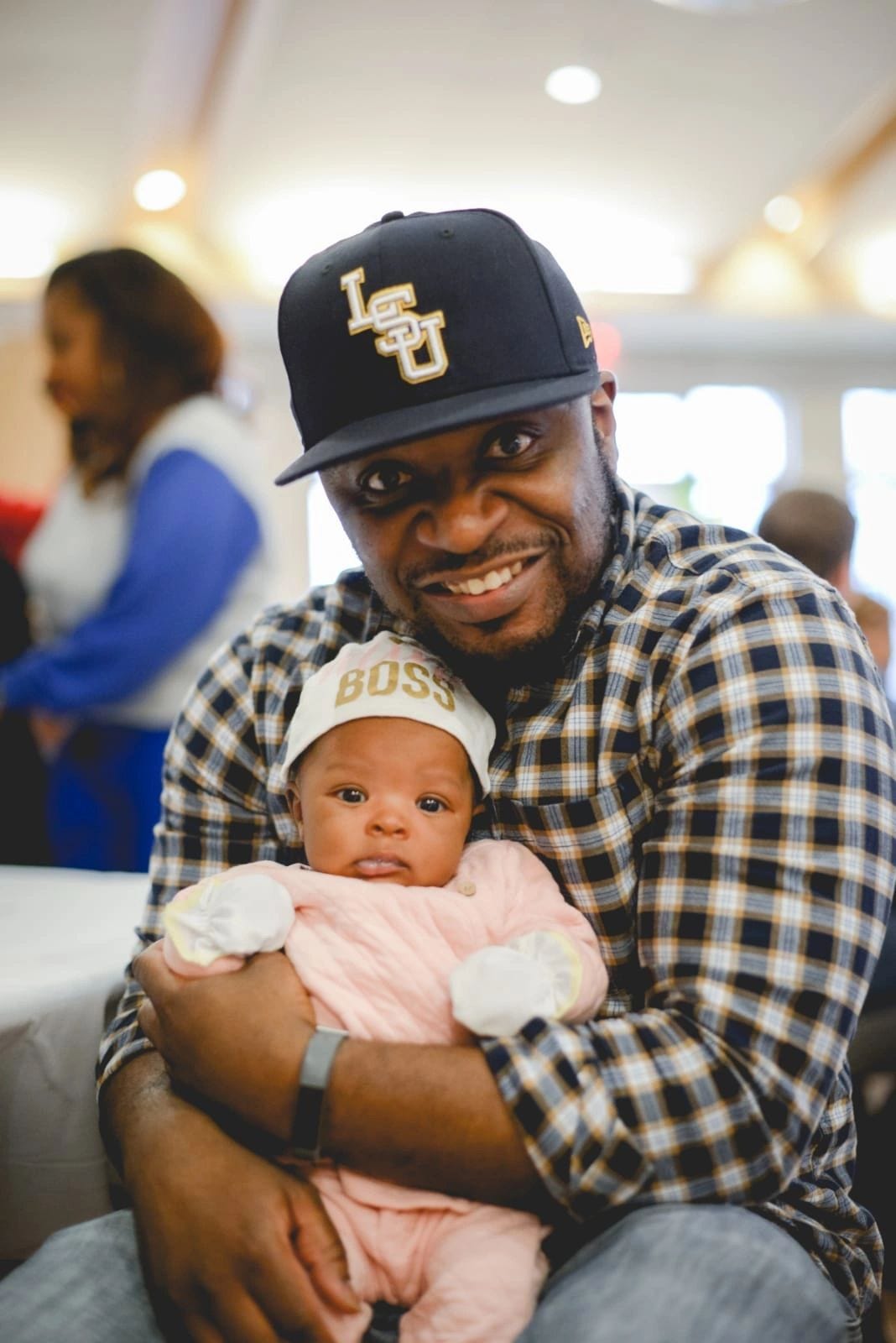 It wows me how much I see myself in my kids. The amazing things and all the things that I'm not so proud of as a man. Children are mirrors reflecting back at us our ugly truths and our marvelous certainties. Not everyone wants to have kids, not everyone can even have kids. Those of us that are blessed to have these humans in our lives, whether biological or spiritual, we owe it to the world to make them better than what we can be.