Discover more from Rewriting The Narrative
Content showcasing the diversity of Black men globally. This platform will provide current news for and about Black men, curated by Black men.
Miles On Miles On Miles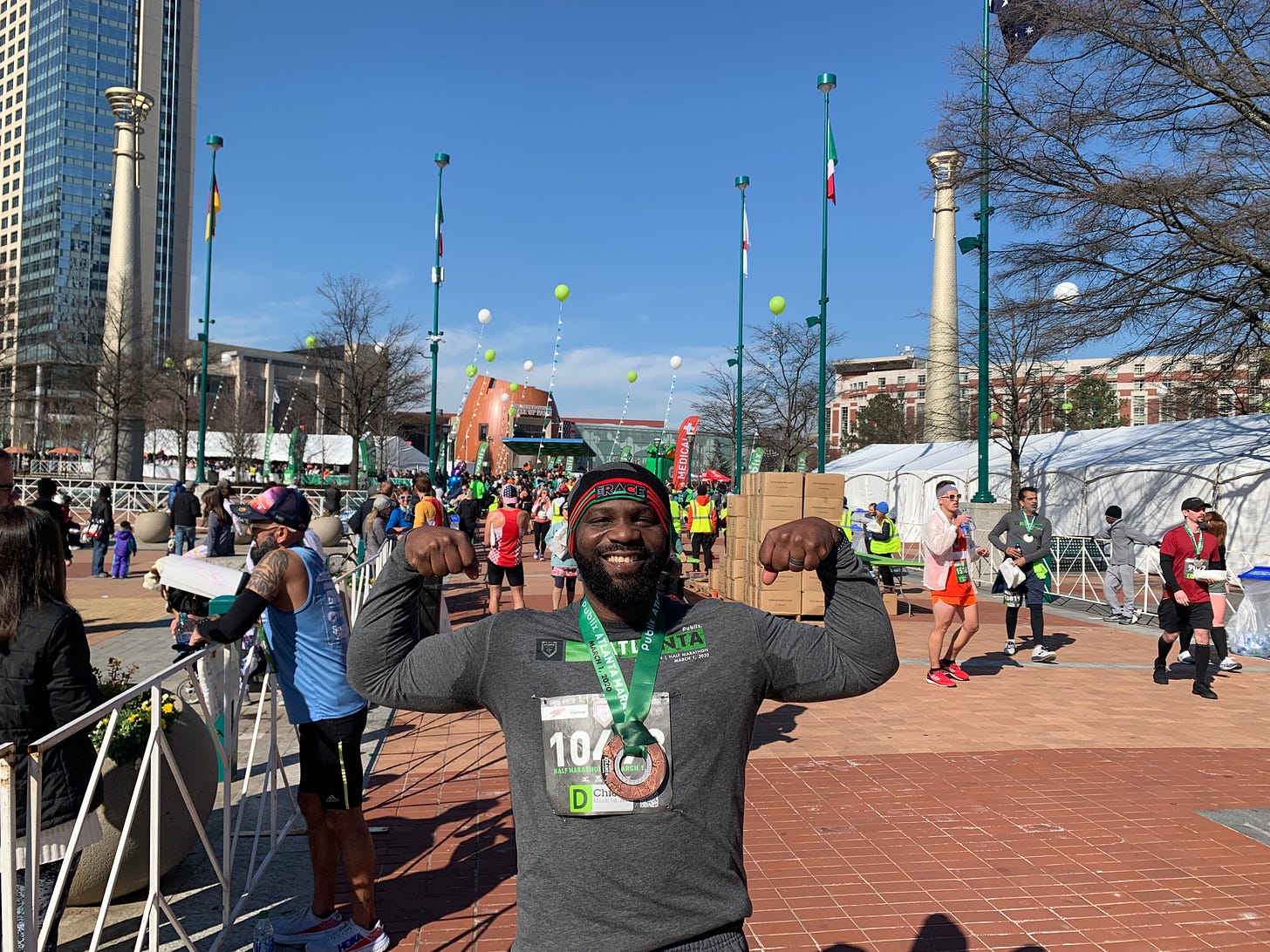 "Oh shit, I forgot to go pee." That was the main thought in my head as I approached the starting line of the half marathon that I've been training for since September 2019. All the early mornings and sometimes late nights of either running trails or using the treadmill lead up to that very moment. And the only consistent thought in my mind was which mile of the course will I make a complete stop so I could urinate. 
Running a half marathon has been something that I've been wanting to do for roughly ten years now. I've witnessed Sean Combs train and eventually complete the NYC Marathon. I also had a former coworker that was an avid runner and cyclist start competing in marathons in his 50s. I had the mentality that if these two could accomplish a feat like that, then someone like myself, in his mid-twenties at the time, could do something similar. Getting in my own way over the years created a cycle of mental abuse I inflicted upon myself. I constantly thought about how difficult the feat was to perform, how many hours it would require me to dedicate to training, and the overall physical toll it would take on my body day in and day out. All of these thoughts had some validity to them, but became more amplified in my head which eventually resulted in dormancy. Over the years I would compete in many different races from 5Ks to 5 milers and a handful of 10Ks. Yet, running an actual marathon alluded me. Some time in 2018, I finally convinced myself that I would at least sign up and begin training for a half marathon - people who've completed full marathons told me this was the best route to take. The race was set for early March of 2019 and I started training in October of 2018. Everything was going well until some time after the holidays. I feel into a slump physically, but more importantly mentally. As you're probably aware of by now, I didn't end up competing in that race. I let my worst fears about myself overcome all of the sheer will I once had. A year passed and I finally got my shit together to become a participant in America's Marathon Weekend.
After the countless amount of miles I put on my body, race day was here for me to showcase everything I worked towards. Soon as the race gun went off, all of the nervous jitters hit me at once and my pace was unintentionally faster than the pace I established during training. I had to really calm my mind to focus on me finishing this course unscathed as much as possible, instead of giving unneeded attention to the pace of other runners. I started setting into a good groove around the third mile of the course. I was traversing through various neighborhoods in the city of Atlanta with M.O.P. blasting in my ears courtesy of a Roc-A-Fella Records greatest hits playlist curated by Memphis Bleek.
100 miles and gunning, I'm still running with cats that rob. From the era of XL 80's and hatchback Saabs. - Lil Fame "U Don't Know (Remix)"
Somewhere around Mile 6 I received a FaceTime call from the fam. Just what I needed, as I was just around halfway finished with the course. Almost immediately after I got off the phone with my three favorite people in the world, my body reminded me that it needed to relieve itself of all of the pent up urine that it was holding onto since five in the morning. Luckily, there was a group of portable toilets as I began approaching Mile 7. Unfortunately, I had to make a full stop, because there was about eight people ahead of me with about six toilets that were all occupied. I went it and did my thing pretty quickly, but in the process had to punch the hand sanitizer dispenser in order for it to work. In hindsight I should've went to the restroom at the train station, but Marta restrooms are notorious for not being the most clean environments. I probably should've ducked into one of the hotels off of Marietta Street, but my mind was too preoccupied on getting through this race. Word to the wise, don't be like me and go pee before you get to the starting line of any race. I don't care if it's a 5K or a triathlon. 
Post-potty break, as my youngest child would say, I pulled out one of the packets of energy gels I had stashed away in my pockets. It was the perfect time to take one, as I was low on fuel and still had half a race course to complete. I was feeling myself at the moment. I had an empty bladder, I just revitalized myself with some extra calories, and the sun was beaming. It's amazing when you take the time to notice that everything is going right, that usually means a semi-disaster will soon follow. And that, it did. Seemingly out of nowhere, I get a cramp in the lower half of my chest from the pits of hell. Initially, I don't panic. I tend to get these every once in awhile, especially if I'm on a long run. I know my recent reflection on having to pee was probably too much information, but bare with me for a moment. When I get cramps in my chest area, it's usually just gas that needs to get out. At the sake of being modest, I tried to just hold it in, but the pain was too much. Great thing for me, I can burp on command, but had trouble trying to fart the entire time (I told you, TMI). The struggle was real and I ended up running about 3 and half miles cramped up and it really reflected in my pace. 
Somewhere between Mile 7 and Mile 8, I lost control of the running rhythm I as was entranced in and for a half a second turned my right foot ever so slightly to the left. On the surface it didn't seem like a big deal. Someone observing probably wouldn't even had noticed that my gait was off in that moment, but something happened that's never happened to me in all of my years of running. I had a sharp, but not painful jolt that went from the bottom of my foot to the top of my right calf. It felt more like a muscle spasm than anything. I shrugged it off, but really didn't know the magnitude of it until near the end of the race.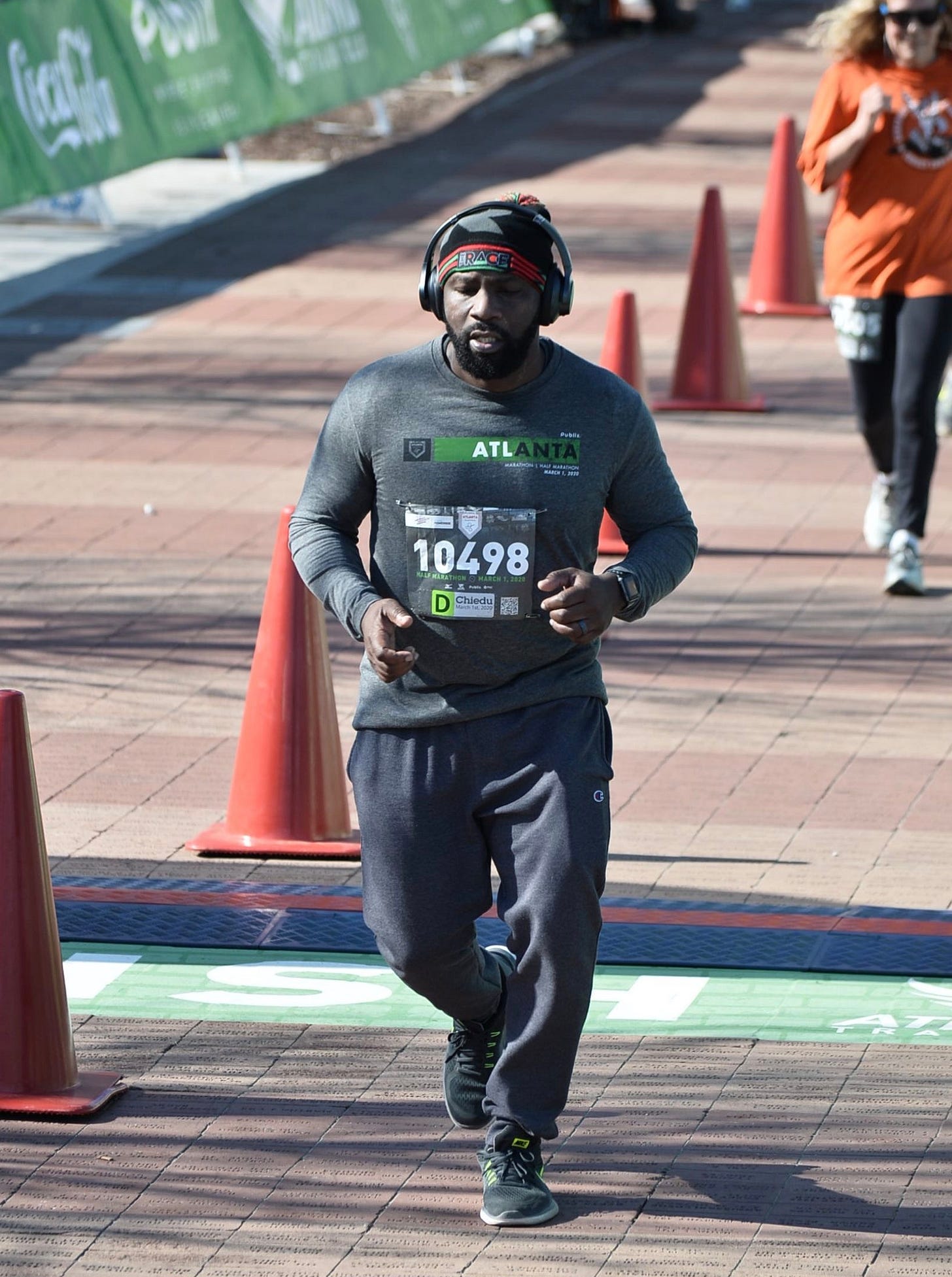 Around the end of Mile 9 things started getting intense. The course started taking us through Virginia-Highlands, Piedmont Park, and Georgia Tech. The scenery was beautiful, but I couldn't take it all in, because I was dying a very slow death. The course was all up hill from prior to Mile 10 to the very last mile. I'm all for vulnerability, so I'll throw it out there, I walked/ran for the majority of the last three miles of the course. I gave it my all and my all at the time was walking up hills and running down hill or on flat ground. As I turned the corner from exiting Georgia Tech's campus, I could see the Mile 12 marker slowly approaching. That meant that I was back on Marietta Street and was at the home-stretch of a bucket list goal I've had for years. As triumphant as I was feeling at the time, my body wasn't in agreement though. Remember that jolt I felt earlier? It came back again and really started hampering me finishing the race strong. The pain was at the end of the chart that pediatricians give to our kids to explain how they're feeling. I couldn't put any pressure on my right foot at all. As people were encouraging us through the finish line, I just tried my best to hobble through it. As much pain I was feeling in my right foot and calf, the level of accomplishment I felt had overtaken that. 
Training for a half marathon and subsequently completing one has taught me much about myself. Like my failed attempt at the race in 2019, I very much get in my own way. I tend to reinforce negative behaviors that I exhibit instead of just getting rid of the habits all together. Unlike searching for the Light as a Sphinxman looking to become a man of Alpha, I let excuses guide my steps far often than not. I found that just getting up and getting out there to train, to run, and to write is all I need. Once I take the initial leap, I have laser-like focus on the task at hand. My goal going into my 37th rotation around the sun is to treat every opportunity like it's race day. For me that often means getting up at 4am in the morning to get some miles in on the treadmill or stay up near midnight to work on some writing that's been bouncing around in my head all day. Just like the hills from hell that I was faced in the second half of my race, creating last habits will be a challenge, but one I gladly accept.